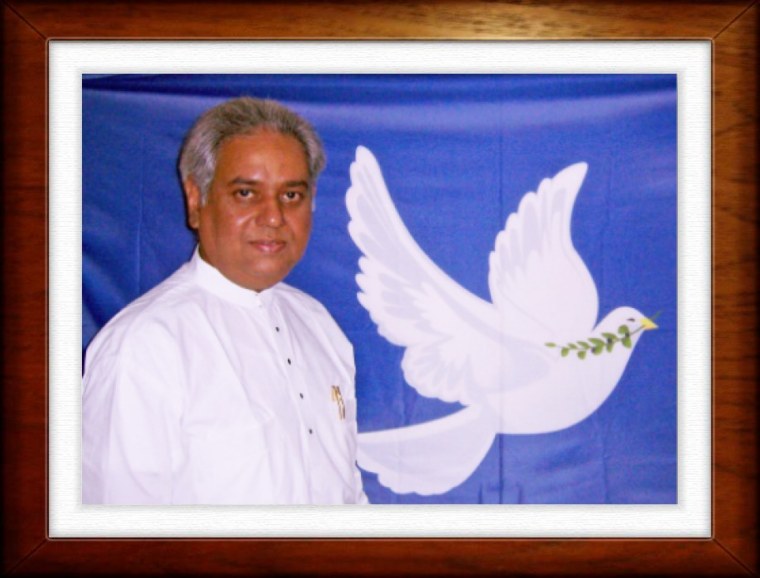 Professional Activities on Humanitarian Works (From 1985 to date)
Website (www.snahalayaashram.com & www.augp.org )
Email: (madhujesus@hotmail.com, chairman@augp.org)
Phone: +91-9176477757. Fax- +91-44-24768877
Dr. Madhu Krishan DD; FICA; PhD (USA).
1. Achievements & Awards:-
Name With Biography Of Dr. Madhu Krishan, Founder & Chairman Of Snahalaya Ashram & Academy Of Universal Global Peace, Recorded In The Prestigious Book Of:-
a). Asian American Who's Who Book in Page No. 275- 276, 5th Vol. 2008
b). Asia Pacific Who's Who Book in page No. 374, 7th Vol. 2007
c). Indo Asian Who's Who Book in page No. 264, 7th Vol. 2007.
AND IN SOME OTHER INTERNATIONAL BOOKS ALSO
Humanitarian Awards:
a). LT. GOVERNOR'S COMMENDATION CERTIFICATE AWARD Given on 26th January 2006- The Republic Day Of India , For The Best Relief & Rehabilitation Works Done during The Tsunami Disaster 0f 26th Dec'2004.
NATIONAL LEVEL AWARDS
(1): Bharath Excellence Award & Gold Medal -2006
(2): Rashtriya Jewel Award & Gold Medal-2006
(3): Human Excellence Awards & Gold Medal-2006
(4): Andaman & Nicobar Administration nominated the name For
Durgabai Deshmukh Award & Swami Vivekananda Award in the field of
Social Work & Consumer Protection Awareness Work.
INTERNATIONAL AWARDS
(1): Best Environmental Engineering Scientist Award-Glory Of India
International Award & Gold Medal- 1997
(2): Rising Personality of India Award & Gold Medal- 2007
(3): Lifetime Achievement Award & Gold Medal- 2007
(4): Indian Golden Achiever Award & Gold Medal-2007
(5): Arch of Excellence Award & Gold Medal-2007
(6): International Excellence Award for Best Construction Engg
Management Award- 2008
(7): International Human Excellence Award & Gold Medal-2008
Social Offices Held:
➣ Founder & Chairman of Academy Of Universal Global Peace (Affiliation With United Nation's Global Compact),
➣ President of Haggai Institute Alumni Association , Andaman & Nicobar Islands(A group Of more than 553 Islands situated at Bay Of Bengal, Near Thailand & in between Indonesia & Burma).
➣ PRESIDENT Of INTERNATIONAL INSTITUTE OF CHURCH MANAGEMENT (Which has its Bible College's branch in 120 Nations world wide - Giving Theological Degrees & Ordaining Church Pastors, Evangelists etc.)
➣ Chairman Of United Christian Council (UCC) & UWB (Asia)
➣ Chairman of Asian American Peace Foundation.
➣ Chairman of Gateway University of Peace.
➣ Executive Chairman of Legal Aid Services- (Its Chairman is Hon'ble Justice DK Basu).
➣ Arbitrator in The Panels Of Arbitrators Of International "ICADR" , Vasanth Kunj, New Delhi Under Ministry Of Law & Justice, & also in the Panels in ICA (Indian Council Of Arbitrations), FICCI Building, New Delhi, under the Ministry Of Commerce.
➣ Chairman of TAFVA (Tamilnadu Federation of Voluntarily Agencies under which more than 7000 NGOs are the members)
➣ Chairman Of Science ,Technology & Environmental Dept.(ANTCC under UPA GOVT., appointed by Shri Shiv Raj Patil(Ex Home Minister Of India) , The Then National Chairman of ST & E ., New Delhi.
ALSO HOLDING MANY TOP POSITIONS IN MANY NATIONAL & INTERNATIONAL ORGANISATIONS Worldwide.
Through Government Registered Humanitarian & Charity organizations "Snahalaya Ashram" (www.snahalayshram.com) (which was founded by Dr.Madhu Krishan during the year 1985) had brought more than 12,000 homeless, needy and deprived children's to the mainstream of Society by providing adequate food, clothing, shelter and quality education up to the Graduation. Many of the inmates are now holding high positions in the Government like police officers, Defense officers, University Professors, School Teachers and in other various capacities. Observing this Government of India had nominated the name of Dr.Madhu Krishan for a prestigious Award and Gold medal.
A brief Activity Report of some of the important humanitarian works carried are furnished below.
Dr.Madhu Krishan through his Government Registered Humanitarian Organization "SNAHALAYA ASHRAM" (www.snahalayaashram.com) completed 25 years of dedicated service for the poor and marginalized sections of the villages located in Port Blair, Andaman Islands & also of Mainland of India, besides carrying out Mega Relief Works during the Earth Quake in Gujarat, Lathur, Pakistan & regular Flood affected areas in various parts of India.. We have been able to make a difference in the lives of socially and economically weaker sections of the settlements, especially among the poor and other socially backward and underprivileged.
The Society was running Schools, Home for needy children, Vocational Training Centers located in the remote areas of the islands, till Tsunami Disaster Devastated on 24th Dec'2004 but after restoration back, it has School & Community centers are located in Parthrupur, Namunaga, and Choldhari & at other parts of main land of India.
A home for the needy children has been run by our society since the society was established in 1985. This children's home has been in operation from 1985, . The home has currently about 12000 inmates whose education and living expenses are totally met by the society. Some of the children raised in the home are now occupying responsible positions in the society as senior government officials, medical and engineering professionals. A total of about five thousand children have passed through the home to become responsible members of the society.(A Separate details are enclosed)
The Society also runs Vocational Training Centers in seven locations in the A & N Islands with about 45 to 50 students in each of them getting training for a period of three months each in such skills as cane works, embroidery, tailoring, fish and prawn pickling.
The Society also is running Crèche's and preschools in several locations in the islands & Mainland of India.
The Society also runs a Cultural academy wherein children are being trained in Bharath Natyam and other cultural expressions.
In addition to our work we built temporary and permanent shelters for the Earthquake and Tsunami affected people for 5000 families in Phase manner.
Further, the Society has provided for skilled workers for constructing more then 10,000 houses for the Tsunami effected free of cost.
We have paid special attention to the education needs of our target groups and it is our considered view and hope that in the years to come also we would be able to allocate more of our attention and resources to this sector which is crucial for not only sustenance level incomes but also are instrumental in empowering these groups and move them out of poverty and social deprivation forever. We would like to record here our gratitude and thanks for the contributions of the members as well as its wishers. Without such cooperation and generosity, we would not have been able to achieve what we have during twelve years of successful and productive work for the causes we have committed ourselves.
Awareness Generation Regarding Social Welfare Programmes of the Government.
By virtue of our constant touch with the residence of our target area, it was understood that many of the people were unaware of several welfare programme of the Government related to maternal and child health, nutrition, social security and support for widows. Residents of our target area who would qualify and are entitled to the intended benefits of the programmes were indentified programme wise and they were helped in initiating necessary official procedures for receiving such benefits. Such beneficiaries include the following.
➣ Nutritional supplement for pregnant women;
➣ Water, Sanitation & Medical care for mothers and children
➣ Awareness programs for disaster management
➣ Stipend for school going female children
➣ Awareness programs for disaster preparedness
Environmental Sanitation and Safe Water Supply Programmes:
Some remote village, Namu Nagat & others did not have safe drinking water available to the poor and weaker sections. By the concerted efforts of Snahalaya Ashram, which enlisted the cooperation of the residents in generating voluntary contribution, a substantial amount was mobilized. Supply of household provisions and kitchen kit were distributed to 181 families who were allotted intermediate shelters at Namu Ghar , a model Tsunami village, which has rain water harvesting system, area drainage foot paths, internal roads, water supply, street lights and provision for storage of ration LPG gas, barber shops health centre, day care centre etc.
Mega Relief works for Tsunami:
A relief work was inaugurated at Government JDMD school relief camp. This camp was adopted for one month for cooking and feeding food, medical care with a team of doctors, clothing, and counseling with a team of expert counselors. we dispatched 10 mt tones of relief materials such as medicine, dry ration, chlorine tablets, medicine for prevention for epidemic diseases, & torch lights to the people in Car Nicobar Islands.
Community Kitchen:
Snahalaya Ashram adopted Twelve relief camps at GSSS at Bathbasti and Nirmala School & other Schools camps and we were running a community kitchen from 13th January 005 onwards till the People were shifted to Shelters.. We also distributed clothing, sanitary kits, mosquito kits, educational kits and medical care to the inmate.
In association with ISM and Disaster Co ordination Committee, we took responsibility for construction of 200 houses for the victims of tsunami as per the model and direction of the A and N and with administration and also confirmed to run the relief camp for more than two months at a new place, Yatric Barrack at Chakkar Gaon till the victims were shifted to Shelters.
Social Awareness on disaster preparedness:
Orientation for disaster preparedness was organized to school students, to both Boys and Girls took active part. We stressed on the importance of rainwater harvesting and formation methods of Science and Environment units in the target area. Our programme has enhanced awareness levels regarding rainwater harvesting and hence attitude towards it. The impact can be seen in the perceptible behavior change among the target groups as well as among the broader underprivileged community, which seems to have created awareness in the target areas. Similarly, in order to create awareness among the farmers and fishermen and surrounding villages in which 132 youths attended the orientation.
National Integration, Peace & Unity programme:
Snahalaya Asharam organized several programs on National Integration, Peace & Unity Cultural Programme to inculcate among the residents the need for maintaining the Peace & unity of the country and create awareness regarding elimination of fissiparous tendencies in the society.
Remedial Classes:

Snahalaya Ashram is running remedial free coaching classes for the academically weak school going children & also for School drop outs..
INCOME GENERATION- Micro- Credit, and Self Employment and Vocational training:
We implemented the project in, Chennai, Trichy, Madurai of Tamilnadu. The direct beneficiaries under this project are 12000 Dalit women. A sum of Rs. 5000.00 was distributed to Each Dalit women Shelf Help Groups. The members joined together are involved in the embroidery work and marketing the embroidery products in and around Chennai. During the initial period of two months, the beneficiaries faced difficulties is finding work due to scanty demand for their work. Now due to the timely supply of raw materials provided by the retailers and whole sale buyers from North India on receipt of indents from the self help groups, women are profitably employed in a continuous and regular basis.
We have also formed Self Help groups in the Andaman & Nicobar Island who are trained in making and marketing fish and prawn pickle to support fisherman victims of Tsunami and the Earthquake.
AGRICULTURE SECTORS:
Snahalaya Asharam has helped in repairing the sea damaged sea walls, bunds, dykes and restoration works of irrigation projects, wells check dams, spillway with sluice gate arrangement, application of organic matter, gypsum, high value agriculture and cropping programs, integrated farming, livestock's biofencing by mangrove plantation, monitoring and implementation with technical supports.
CONSUMER AWARENESS PROGRAMME:
Snahalaya Ashram conducted consumer awareness programmes to create awareness about consumer rights. During the year under review, Snahalaya Ashram had conducted 6 different types of programmes in this regard. The selected target groups were youth, students, women, local leaders and SHG'S WOMEN. The under taken programmes were public awareness meeting, consumer awareness seminar. Consumer rights workshops programme. More than 1900 participants from six target project areas benefited from the programs, malpractices of price, food adultery and consumer laws formed major topics on which awareness was created. Several key resource persons related to consumer organizations were involved as resource persons.
HUMAN RIGHTS EDUCATION:
Snahalaya Ashram implemented the programme of Human Rights Education for rural women and girl children in its target area to give voice against women atrocities. When we implemented the programme, following issues emerged during interaction with the participants:
1. Denying properties to daughters, widows from father and husband side through the act of property to women in force.
2. Maintenance is denied for widows and separated wives.
3. Partiality is shown to feminine gender in feeding, education and social care.
4. The basic rights of women and girl children are denied as well as violated in all stages from child hood to old age. For example sex harassment in working places, over load of work in housekeeping as well as working area, practicing early marriages, and polygamy.
5. To overcome from about said issues and problems, Snahalaya Ashram organized seminars, orientation, consultation, counseling to the affected victims.
6. In addition, we also referred the cases to local Help Cell to get legal support and remedy.
We also prepared distributed IEC materials in which message and slogans are displayed about rights of women and children: Some of the examples are) Women and laws;
(b) Property ownership rights to women: (c) Marriage Acts; Special marriage Act (Inter religion/caste marriages; (e) Divorce Act as follow up activities.
ELIMINATION OF CHILD LABOUR SYSTEM THROUGH LITERACY PROGRAMME:
Snahalaya Ashram had taken the survey to know the conditions of the Child labor where it was found that the children were employed in textiles and power looms industries, and automobile workshops. To improve the education and social status of the children, Snahalaya has implemented elimination of child labor programmes consisting of two hours per day. They were provided with sports and recreation facilities such as carom boards, sports and games for one hour. The second hour was used for imparting literacy and numeracy education. Snahalaya Ashram gave the two animators of the culture of child labour even though the children provide additional income to the family. Child labor destroys enjoyment of the joys of childhood by the child workers and their future social mobility. In addition, they are deprived of love, affection, social interaction and human dignity. Snahalaya Ashram is proposing to implement the alternative permanent employment for parent school-aged children and dropouts are the main focus of the proposed programmed. This year we have enrolled 23 children in the existing schools.
WOMEN SANGAMS and PROMOTION OF SMALL SAVINGS:
Snahalaya Ashram formed 43 women sangams in its project villages. The sangams are promoting savings and credit system is the group. The beneficiaries save a part of money from their daily earnings. The savings money is given as small loans to the sangam members on priority basis. Snahalaya Ashram maintains ledger books, cash book, and individual savings pass book and all records for better understanding, accounting angles. Each member saves Rs.25-30 on a fortnight. The money is deposited in the bank for group loan aspects according to the needs of the members as per the priority of emergency. The sangam is running effectively.
NATIONAL ENVIRONMENTAL AWARENESS CAMPAIGN:
The aim is to keep our environment clean and green and water resource development books were prepared printed and distributed to village community for better maintenance of water resources like bore-wells, public wells, rivers and lakes etc., Cycle rally was organized to give awareness to rural people.
HEALTH and MEDICAL PROGRAMMES:
AIDS, Drug, and Cancer OBSERVANCE and prevention PROGRAMME IN SCHOOLS.
World AIDS Day was observed in the month of December 2005. AIDS prevention and Control programme was conducted in Higher Secondary Schools for boys and female students. The total participants are 200. The subjects covered are transmission of STD/HIV/AIDS/ and prevention methods. Safe behavioral changes and also proper using method of condoms. Also met 40 children infected with AIDS in Perunthurai and Karur, in Tamilnadu and they were counseled.. Prevention and control program was also conducted in the schools to which these children belonged.
Women, Health and Breast Feeding Awareness:
The above programme was conducted among the Self Help group women in and around Chennai, where the branch office of Snahalaya Asharam is located. Water supply, Health and sanitation, education and care for female children.
Cancer Awareness Programme:
Experts from Adyar Cancer Institute were invited to talk to women in the SHG's on the need for maintaining hygienic practices to prevent cancer in the reproductive system. Youth and men who participated were counseled against smoking and made aware of the risk of lung cancer, coronary artery diseases caused by smoking.
Distribution of Provisions, Clothes and materials, for the poor in and around Chennai.
Clothes and other materials, provisions and food items were supplied to the victims of unprecedented floods during late 2005 in and around, Chennai.
Undertook the work Of Verification Of NGP in 660 Villages in Tamilnadu Under The Grant Scheme of Ministry Of Rural Development, Govt. Of India
In 660 Villages & 10 Blocks of Tamilnadu we conducted Verification Works of NGP under the Grant Scheme of Ministry Of Rural Development during the year 2008-09 & made amass awareness program on Health, water & Sanitation in all the 660 villages & 10 districts of Tamilnadu. We also recommended the name of best Villages for the Hon'ble President of India's Awards.
Celebration of Important days:
SNAHALAYA ASHRAM 'S 13th Year anniversary on 07-02-1996 was celebrated at its registered office, with all the office bearers.
All the Important Day was observed by inviting a big gathering & VIPs as Chief Guests. Many of the Programs were covered by the News paper . Certain Programs which were observed every Year are
1. World Health day April 7, 2006
2. World technology day May 11, 06
3. Intl birds and animals protection day May 22, 06
4. World Environmental day June 5, 06
5. World Population day July 11.06
6. World importance of breast feeding day August 1, 06
7. Independence day Oct 10, 06
8. World Ozone day Oct 10, 06
9. World blood donation day Oct 1,06
10. Gandhi Jeyanthi Oct 10, 06
11. Intl day for prevention and precaution for natural disaster Oct 11,06
12. World healthy food day Oct 16, 06
13. Intl science day Nov 10, 06
14. Children's day Nov 14, 06
15. Worlds AIDS day Dec 1, 06
16. World Human Rights day Dec 12, 06
17. National energy conservation day Dec 14, 06
18. New Year celebration Jan 1, 07
19. National Youth Day Jan 12, 07
20. Republic day Jan 26, 07
21. World science day March 28, 07
22. International Women's Day March 8, 07
23. Girl Child Week, September 12.
From past three Years we mainly focus on 10 Universally accepted Principles of UN Global Compact & also on the United Nation's Policies & Charters on the Social. Humanitarian, Issues & on the Peacemaking & all other Issues.
CONCLUSION & FUTURE PLANS:
we have to scale many more heights and we solicit the highest co-operation of all our members to achieve the ultimate goal of Snahalaya Ashram in the upcoming year and in the years to come. This would move several families out of the vicious cycle of poverty, malnourishment, and social deprivation and also prevent these vulnerable youth falling prey to forces of disruption and destabilization.
Plans for further action in Disaster Affected Areas in India:
Besides ingoing programs of awareness on all the above mentioned issues & also all the Programs of United Nations Charter & policies & United Nations Global Compact's 10 universally accepted Principals,, we will also seek the Funding resources from International & National Funding Agencies for the following projects.
1. Construction of Earth quake Resistant Permanent shelters for Disaster Victims.
2. Construction of Public Health centers with Lab facilities in remote areas.
3. Construction and running of destitute home and old age home.
4. Special repair to the damaged houses, institutions and hospitals in Tsunami.
5. Providing livelihood to fish workers, by providing fishing boats, nets, ice boxes, deep freezers.
6. Disaster mitigation and preparedness programmes along with Training the large Team Of skilled workers & Volunteers to go for emergency Response work during any Disaster..
7. Emergency response Hall in 100 villages.
8. Providing drinking water storage facilities and recharging wells and check dams and mini dams.
9. Construction of Toilets to Individuals and community washing houses in 50 villages.
10. Skill training Centers.
11. Providing Financial AID to SHG's
12. Research, diagnostic cum treatment center to the traumatized Disaster Victims.
13. Medical college and research centre with well equipped super specialty.
14. Agriculture cum Bio tech Research College.
15. Vetenary and Marine Bio Tech Research College.
16. Dental College.
17. Engineering College.
Peace & Humanitarian Activity:
1. Working sincerely to establish Universal global peace from the year 1985 onwards by organizing various International & National level of seminars. The Certificate issued by The Hon'ble Lt.Governor of the Govt of India is enclosed.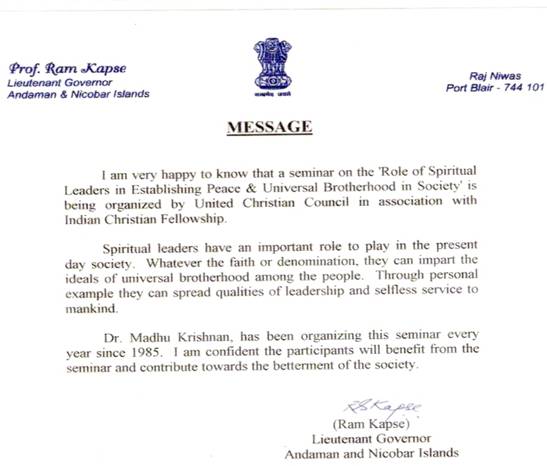 2. From 1985 onwards Dr.Madhu Krishan is actively promoting all the humanitarian works for the Socio-Economic development of the deprived and weaker section of the society. During Tsunami disaster he was made as The Chairman of Government & NGO's Co-Ordination Committee and he very remarkably conducted the emergency relief and rehabilitation works his own organization adopted more than 5000 Tsunami victims family and provided them all the possible relief and rehabilitation.
The Certificate issued by Hon'ble Lt.Governor of the Govt of India & The Senior most officer of the Govt of India, The Chief Secretary are enclosed.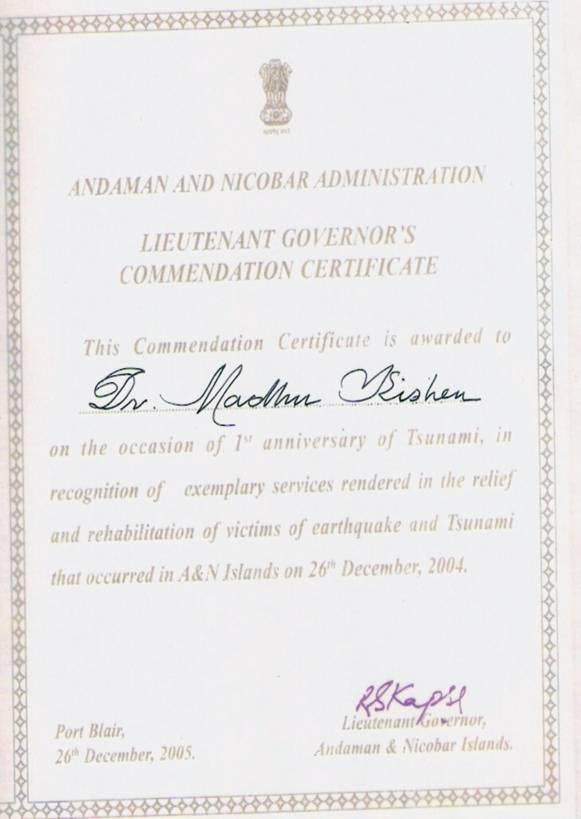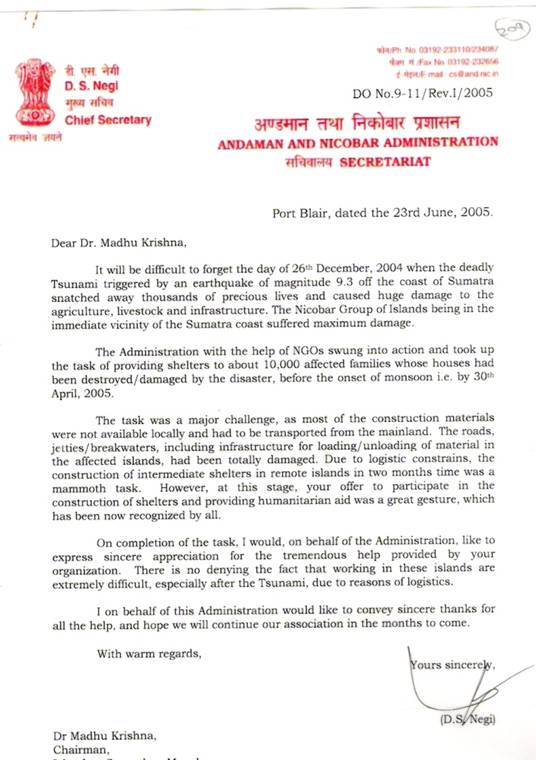 3. The organization of Dr.Madhu krishan was the first organization to construct earth quake resistant intermediate houses followed by permanent earth quake resistant houses. The Certificate issued by the Government authority are enclosed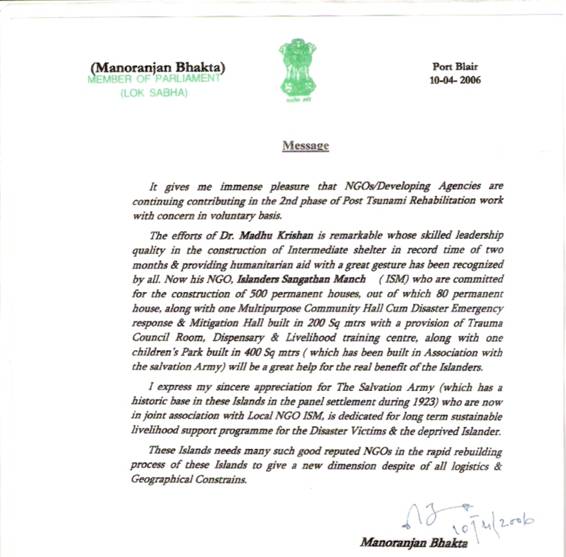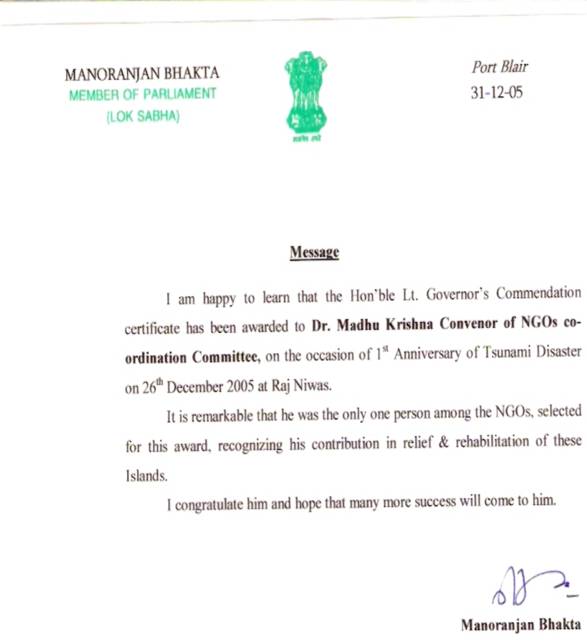 4. Many Government news paper and other news agencies have covered the programs of all such works of Dr.Madhu Krishan in the field of establishing Global peace, environmental issues, humanitarian & community developmental works, socio-economic generation and poverty alleviation programs through alternative livelihood generation, gender discrimination, women & children empowerment, human rights & constitutional rights and legal aid services etc etc. We may have more than 10000 news paper cuttings which can be submitted if required.
Some important training programs to train the trainers of Ambassador of Peace & Peace Building Mission.
1. Most.Rev.Dr.Madhu Krishan, Founder & Chairman of AUGP leads 20 Days Long Seminar Cum Training Program to Train 5000 Trainers.
Dr. MADHU KRISHAN, FOUNDER & CHAIRMAN OF ACADEMY OF UNIVERSAL GLOBAL PEACE TOOK A LEAD ROLE IN THE MASS MOVEMENT OF ESTABLISHING GLOBAL PEACE FROM THE GRASS ROOT LEVEL TO THE TOP CREAMY LAYER OF THE GLOBAL SOCIETY IN SOUTH INDIA,TRAINED MORE THAN 5000 PEACE MAKER & CHANGE MAKERS IN THE GLOBAL CIVIL SOCIETY IN SOUTH INDIA DURING THE 20 DAYS VENTURES WITH THE INVOLVEMENT OF LOCAL NGOs, SOCIAL ORGANISATIONS, WOMEN EMPOWERMENT & DEVELOPMENT SOCIETIES PUBLIC ELECTED REPRESENTATIVES, SOCIAL ACTIVISTS & REFORMERS & ALL THE DENOMINATIONAL HEADS AT DIFFERENT LOCATIONS IN CHENNAI, MADURAI, SIVAKASHI, VIRUDHANAGAR & BANGALORE.
The active participation & association of the local bodies such as MNEC at Madurai- Headed by Dr. P.Manoharan & Dr.J.Helen; GRACE GROUP OF INSTITUTES at Sivakashi – Headed by Dr. Jaypaul Xavier & Jeba Kandaleena & NICC Group Of Colleges at Bangalore – Headed by Dr. Sampson & Dr.Sunitha; with their huge number of members & grass root level of Activists respectively in all the Seminars & Training Programs. With the help of all these local bodies all together 5000 Trainers were trained by Dr. Madhu Krishan, Founder & Chairman of Academy of Universal Global Peace. These 5000 trainers who were trained to train other trainers in their respective geographical areas to establish the Grass root Peace movement & ultimately Reaching upto the Creamy Layer to establish the Universal Global Peace through the intensive training by the field's premier political leaders, academic experts, practitioners, and advocates in the skills necessary to bring peace and security to their communities and to the world by seriously & will fully attempting to address the Conflict Prevention, Conflict management & Resolution, & Post Conflict Reconciliation & Reconstruction & Multilateral Simulation etc..
During the Intense Training the Course which was given includes modules on conflict prevention, conflict management and resolution (including mediation and negotiation), post-conflict Reconciliation and Reconstruction, several Multilateral Simulations, and Social Entrepreneurship.
2. His Excellency Dr.Madhu Krishan at India-Pakistan Border
His Excellency Most.Rev.Dr.Madhu Krishan Founder & Chairman of AUGP in association with Rt.Rev.Bishop.Dr.Harbhajan Singh organized a Global Peace Seminar at India-Pakistan Border in Firozpur, which was well attended by multitudes of people of various denominations. More than 12,000 participants prayed for the peace between India & Pakistan and also for the Global Peace. 500 trainers were also trained during the 2 week long seminar cum training program and were distributed with the certificates at TODC Campus. The 10 universally accepted Principles of United Nation's Global Compact and the charter of United Nation's were also given wide publicity during the program. The news paper and all other media made a good coverage of all the programs.
3. 3 days Seminar on the Topic of Establishing Universal Global Peace by Academy of Universal Global Peace (AUGP) held at HIMA Convention Centre, Opp to NIT College, Kazipet, Warrangal, Andhra Pradesh.
Dr Madhu krsihan Founder & Chairman of AUGP is the chief Guest of the occasion dwelt at length on the topic and specifically focused on need of Spiritualism for the strong foundation of Global Peace to eradicate all Communalism.

More than 15000 Participants attended the 3 days Seminar which includes Head of Various NGO's, their representatives, Public Representatives, Social Activists, Spiritual Leaders, Youth forum and Women organization actively participated in the Seminar.

Future Proposed activities on Humanitarian Relief Works (If the post of Republic of New Lemuria Minister of Humanitarian Relief is Considered):

A): Forming A Long Term Sustainable Humanitarian works Strategy & Action Plan To Reach out to All the Nations in Legitimate need of Humanitarian works & Ultimately Contributing in Establishing Global Peace,
Certain Action Plan with Modalities will be set up to:
1). Through Advanced Skills of Leadership Qualities, Capacity Building in Training the Trainers to take up Humanitarian works & ultimately Building the Peace Loving Community Around us & Ultimately Building up a Better GLOBAL NATION.
2). Provide all possible Educational & Transformational Process to Transform life of Every Global Citizen so that they can have a life filled with PEACE, LOVE , DIGNITY, JUSTICE, , giving them Excellent opportunity to reach their Fullest Potential Through Courses under Certificate, Diplomas, Graduation , Master Degrees , Quality PhD programs both in Humanitarian Studies & other Higher Educational Courses.
3). Transform the Global Citizens as Faithful Messenger of God's PEACE & LOVE & to be Trained to Train Other Trainers to a Powerful Motivators , Trainers & Courageous Promoters of Humanitarian works, PEACE , LOVE & JUSTICE & Ultimately Bridging Global Citizens To Peace Loving & Peace Living Global Community.
4). Effective implementation of Community & Humanitarian Based Developmental works which are for Long-Term, Sustainable & Transformational.
5). Create an impact on the Community & Global Civil Society to create Lasting change in the life of Deprived Families, Children & Communities living in POVERTY & INJUSTICE.
6). To Create Sustainable Livelihood Security, POVERTY ALLEVIATION through Transformational Development
7). Through Trained Team of Educated Global Citizens , Educating & Sensitizing the Community on the important aspects of ENVIRONMENT, GENDER, CONSTITUTIONAL HUMAN RIGHTS, WOMEN & CHILDREN EMPOWERMENT, SAFE DRINKING WATER, HEALTH & SANITATION, FOOD SECURITY, AGRICULTURE, HOUSEHOLD RESILIENCE, EQUITABLE DEVELOPMENT of Every CITIZENS & Care for the Vulnerable & ULTIMATELY ESTABLISHING GLOBAL PEACE.
8). Train the Youths to bring them to the Orbit of Humanitarian Works, Ultimately Establishing Global Peace & Empowering Civic Activism towards the Culture of Peace & impart quality Education & Training for their Sustainable Livelihood. Specialized Teachings & Training Courses for Disaster Management, Preparedness & Mitigation & to response effectively in any Disaster with Emergency Relief to provide Community based Emergency Relief & Rehabilitation, Psychosocial Care, Economic Recovery, Infrastructure Building & Long Term Sustainable Humanitarian Rehabilitation works & all other allied Social works. 10). Through the Social work in a participatory manner involving the Community irrespective of Cast, Creed, Religion, etc, to establish good human relations with the Community & Ultimately Establishing Global Peace On This Global Mother Earth.
11). Following its Mission to help the sick, the needy and the most disadvantaged in society, our programmes will include medical and social assistance, disaster relief in the case of armed conflicts and natural catastrophes, emergency services and first aid corps, help for the elderly, the handicapped and children in need and the provision of first aid training, and support for refugees and internally displaced persons regardless of race, origin or religion.
12). Special Designed Programes for the Youths who are the Future Global Citizens.
Our Mother Earth has a Bank of 'youths' with those between 15-35 years age group, accounting for about 40% of the total world population. Youth is not a homogenous group and can be categorized mainly based on location (urban, rural); gender (male, female) and role (student, non-student, employed, unemployed, parent and citizen). The youth is an important phase in life and this phase of "youth-hood" comprises of not only a physical and psychological change but also role change in family as well as in society. Abundant creative energies and talents of youth are neither fully tapped by society nor realized by the youth themselves, resulting in detrimental effect on self as well as society.
As we advance socially, scientifically and economically, we find new barriers emerging. This is most evident when assessing the growing gap between urban and rural communities. We must remember as, Mahatma Gandhi once envisaged that "India lives in villages". New development opportunities can be unleashed for rural communities if the development machinery interfaces with people and particularly our youth. It is also observed that there is dearth of educated youth with inclination for social causes for efficient implementation of developmental programmes and plans in rural areas. The paradox of the situation is that our educational institutions are bringing out thousands and thousands of professionally qualified youth every year who universally aspire for well-paid jobs and there only a few who are willing to involve themselves into rural development initiatives. Thus the rural development sector is in want of educated youth with varied disciplinary backgrounds to spur development of rural India.
In the world demographic segment, youth has tremendous potential. They can contribute enormously to community development. However, a well-defined approach of engaging young people needs to be articulated and the policies and programmes should provide them the right direction and develop the appropriate mindset so that their energies are properly channeled into productive, forward-looking and worthwhile contours. For Mahatma Gandhi, every human being has intrinsic value; he or she should be properly nurtured and guided towards realization of his /her fullest potential so that they become useful to themselves, the community and the nation at large.
Situation today:
A high proportion of rural youth in the world are directly affected by the problems of poverty, illiteracy, malnutrition, un-employment, violence, natural disasters and other socio-economic concerns/problems. The youth are also victims of exclusion from rights and opportunities. It is obvious that there is a great need to encourage rural, tribal youth, especially those susceptible to exposure to wrong ideas and undesirable behaviors.
Youth Sensitization Programme:
Among its multiple initiatives, We would accords priority to focus on programmes for sensitizing youth, through rural exposure particularly those enrolled in professional institutions located in urban centers. The rural exposure would focus on the rural ethos and issues and problems of rural areas. Similarly, Our Future programmes will empower rural youth with skill development, entrepreneurship and knowledge of rural technologies.
We will Focus On:
· Transformation of youth in favor of approaches based on non-violence in the pursuit of development and nation-building.
· Encouraging, motivating rural youth to shoulder leadership roles in grass-roots development.
· Inculcating in rural youth the values of universal brotherhood and zeal for selfless service towards the wellbeing of the community.
· Making social and educational interventions aimed at capacity and character building of youth.
· Enabling the youth to overcome social divides and to work for peace and communal harmony.
· Promoting solidarity among youth of India through various extensions programmes and enables them to realize their full potential.
Activities:
Under this programme We will proposes a variety of activities aimed at influencing the youth so that they develop orientations and attitudes favorable to resolution of conflicts and maintenance of peace through non-violence approaches.
· Workshops/Seminars
· Field visits/ Voluntarily Work approach
· Awareness campaigns
· Competitions (quiz, debate, essay writing etc.)
· Extension programmes
Contents:
a. Geo, cultural aspects of the village
b. Socio-economic and political aspects of the village
c. Health, Sanitation & hygiene
d. Drinking water
e. Livelihoods, occupations & income patterns
f. Opportunities and conditions of basic education
g. Opportunities and affordability of higher education
h. Village productions (dairy, poultry, fisheries etc.)
Target groups:
1. Students who are pursuing their professional degree or PG (IITs, IIMs, Engineering, Medical, Law etc.,) in an educational institutions within India and are on the verge of completing their course.
2. Students with rural exposure: for instance those who are pursuing degree/diplomas /PG etc., in rural development, social work Sciences, Arts etc., from different universities.
Methodology:
1. Lectures/Orientation
2. Presentation
3. Interaction/group discussion
4. Interview
Partnerships/ Collaboration:
We would prefer to seeks partnerships, collaboration with Global level or National Level Universities, rural institutes, Professional institutes/Colleges, Corporate, NGOs, and CBOs Trusts, Foundations, etc.,
Programmes:
Youth for social action

Youth for community, grass-root development

Youth for rural/appropriate technology

Youth for disaster management

Youth for psycho-social/educational rehabilitation

Youth for environment upkeep

Youth for resources management

Youth for rural economy

Youth

campaign for rural advancement
Follow-up activities:
1. Organizing field visits for selected youth groups
2. Organizing Voluntarily works approach in villages
3. Conducting capacity building training programs for the young representatives/functionaries NGOs & CBOs
4. Organizing youth campaigns for rural advancement
5. Conducting case studies on youth issues
6. Developing training modules
7. Collaboration and networking with potential NGOs/CBOs
8. Formation of youth parliaments in rural areas across the country